Earth Day Sensory Play
What You Need:

- sensory bins or a sensory table (we love using the IKEA FLISAT table and the accompanying TROFAST bins)

- water

- mini recycling and trash cans (we found these at our local Dollar Tree)

- Learning Resources® Helping Hands Fine Motor Tool Set™

- selection of recyclable materials and trash to place in the water

- two of our favorite Pals, Pippa and Blair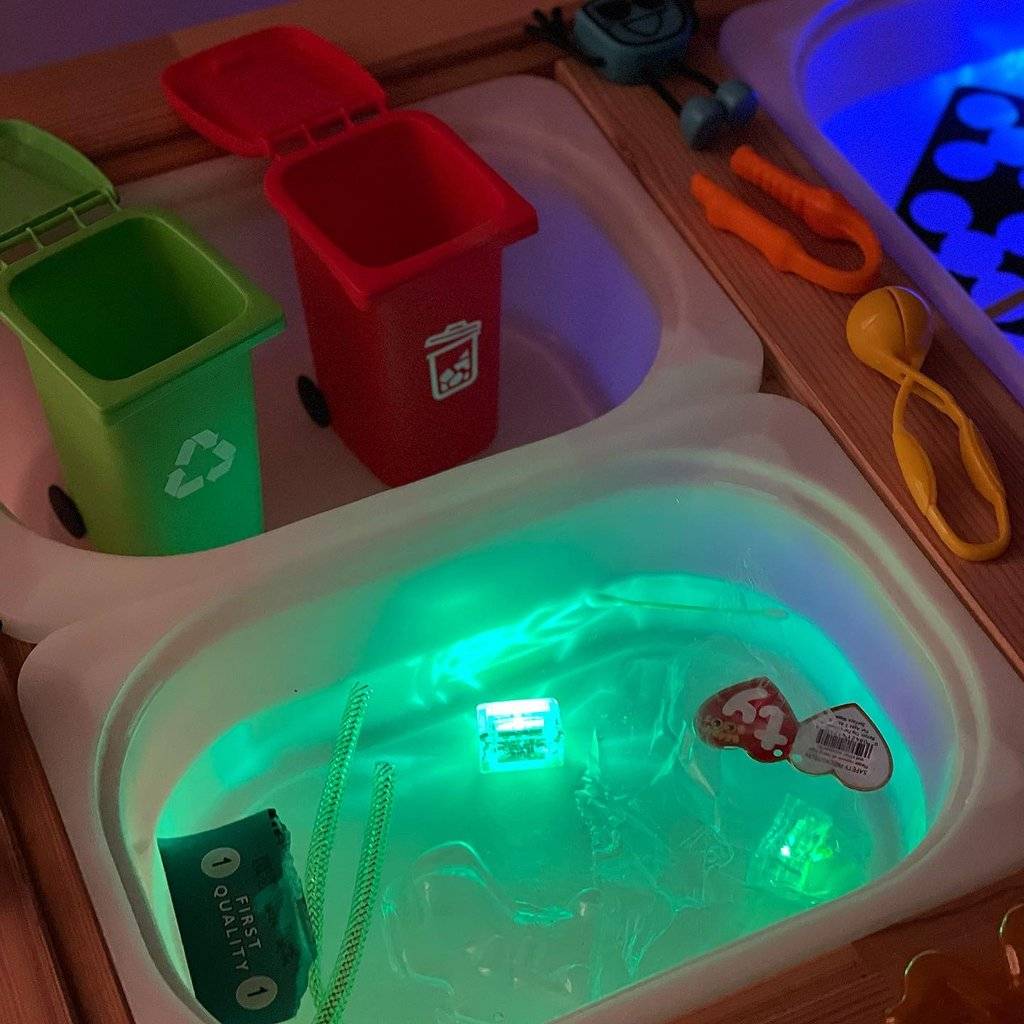 The Set-Up:

Add some water to two of your bins and throw in the blue and green Pals to make a land and sea sorting bin. Then place the types of trash and recyclables you might find in these environments into the bins. For example we put some cardboard tags and plastic toy packaging in the land bin, but put net packaging and bottle caps in the sea bin. Put out the fine motor tools, mini recycling, and trash cans. It might be a good idea to have a small towel nearby to clear away the splashes!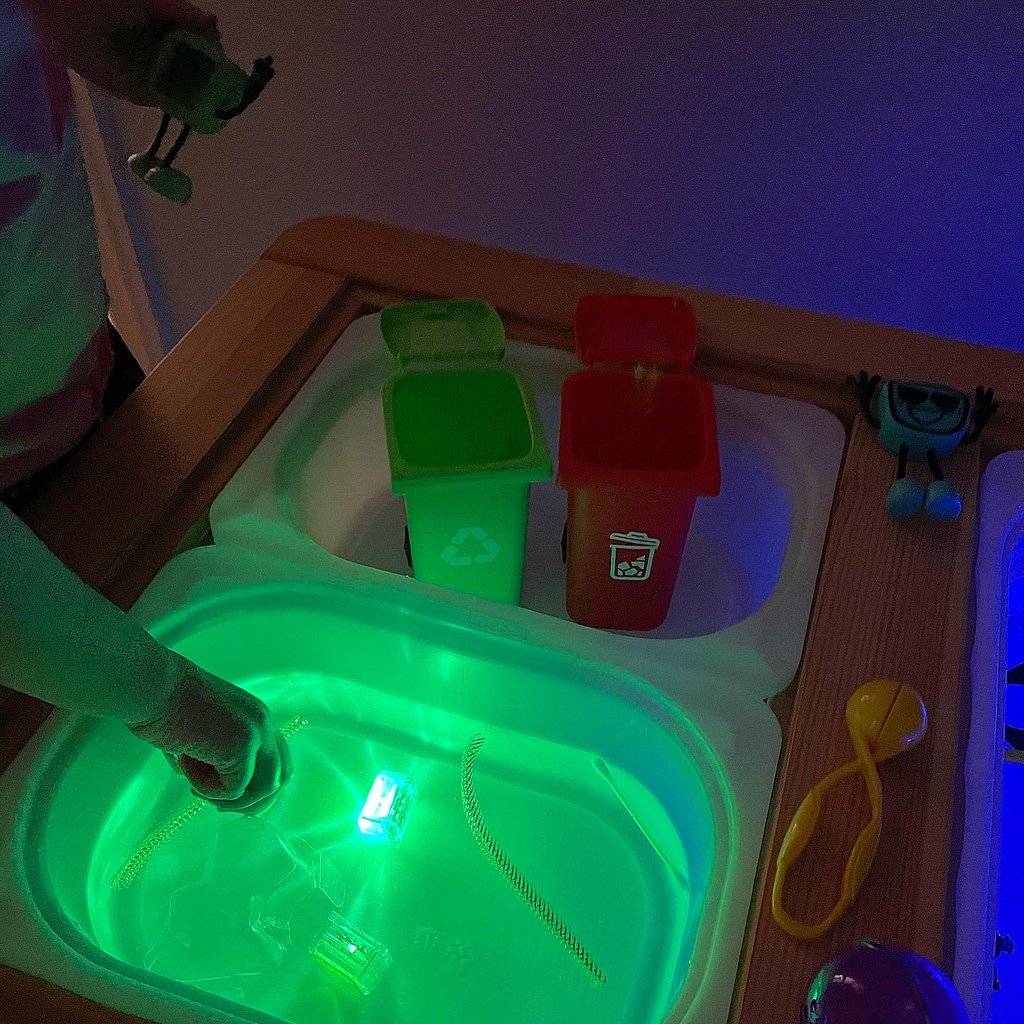 Let's Scoop & Sort:

We invited our little friend to come and sort the materials in each of the land and sea bins. She loved that Pippa and Blair came to help her too! She started by picking out the pieces of recycling from the land bin. While looking at the materials, she named what it was and said whether she thought it was recyclable or trash.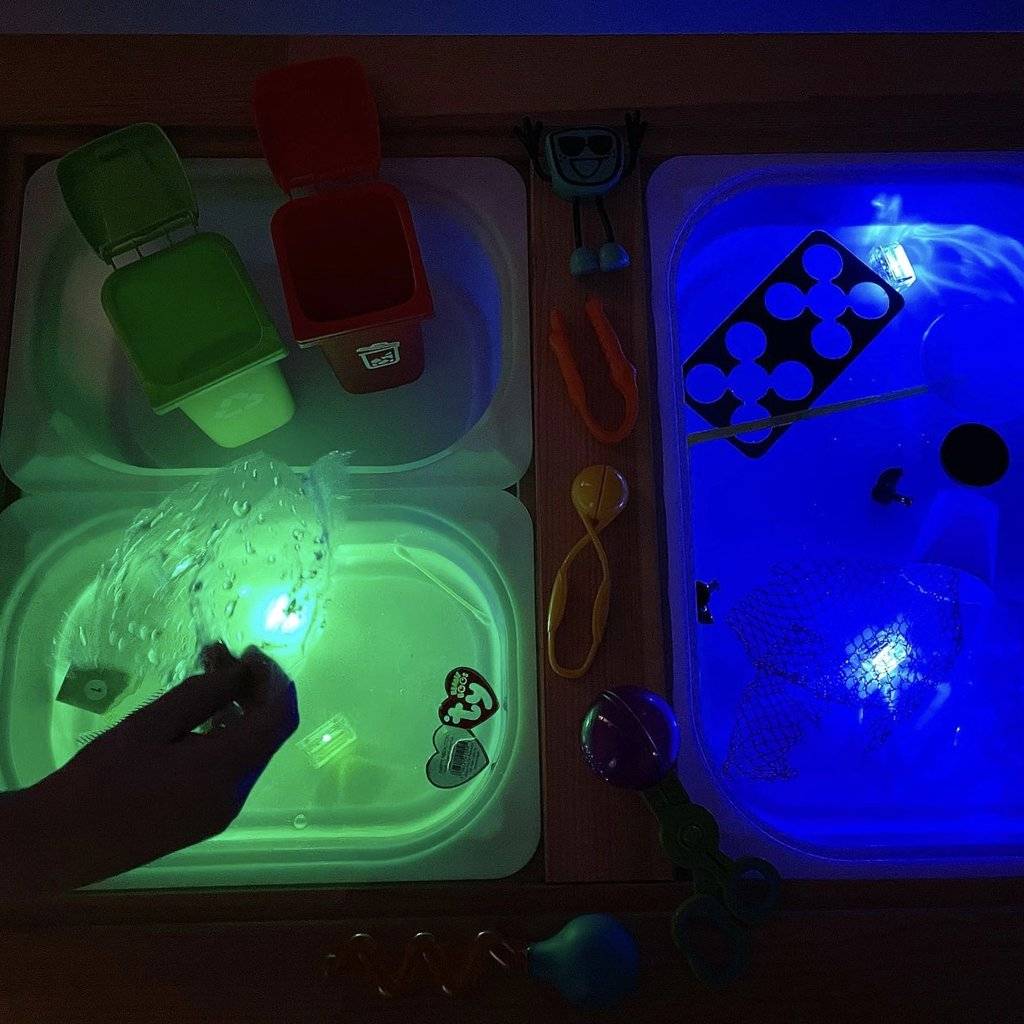 After a while the fine motor tools really started to be used more and more. The Gator Grabbers™ were perfect for picking out the smaller items from the water. This was great for her fine motor skills, as well as her patience as some of the items were a little slippery!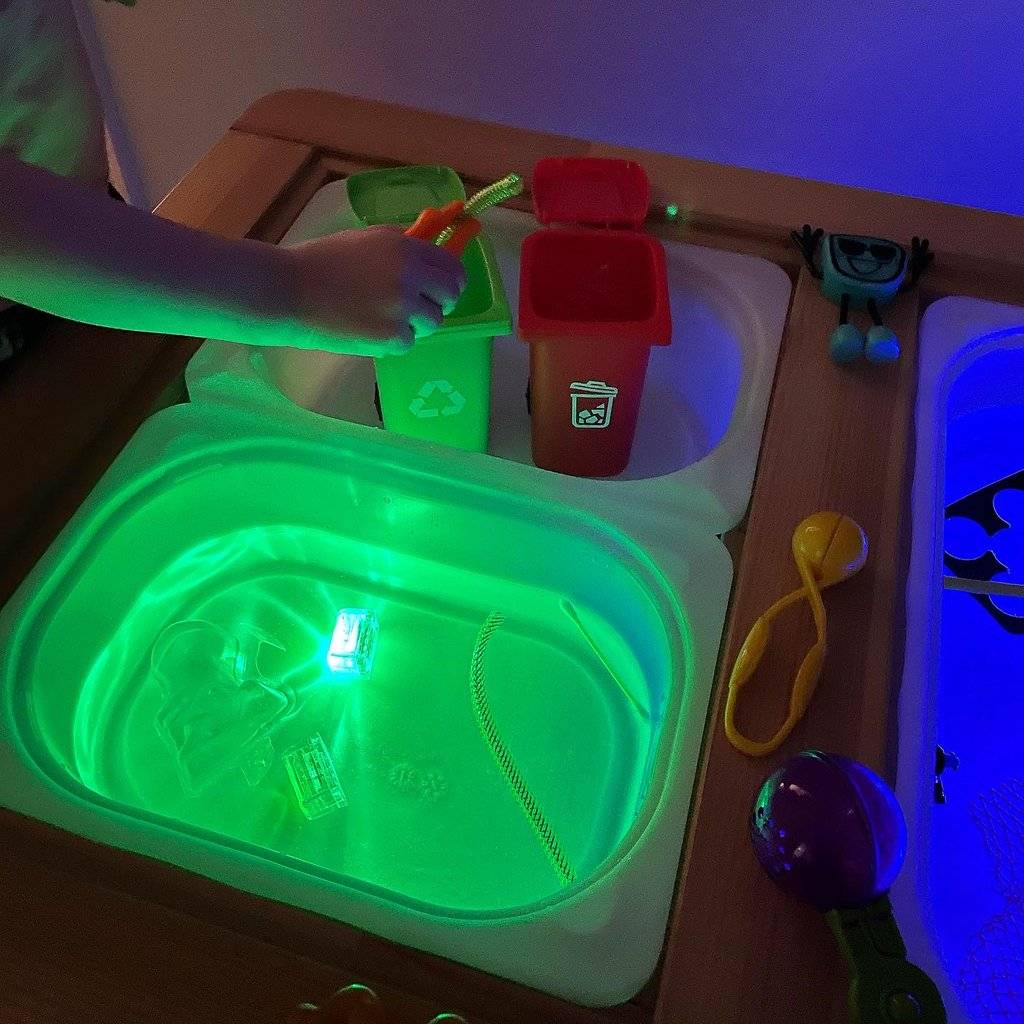 Once all of the materials had been cleared from the land bin, it was time to talk about the sea and the types of trash and recyclables we might find there. We also spent some time talking about how these items might cause damage to sea life.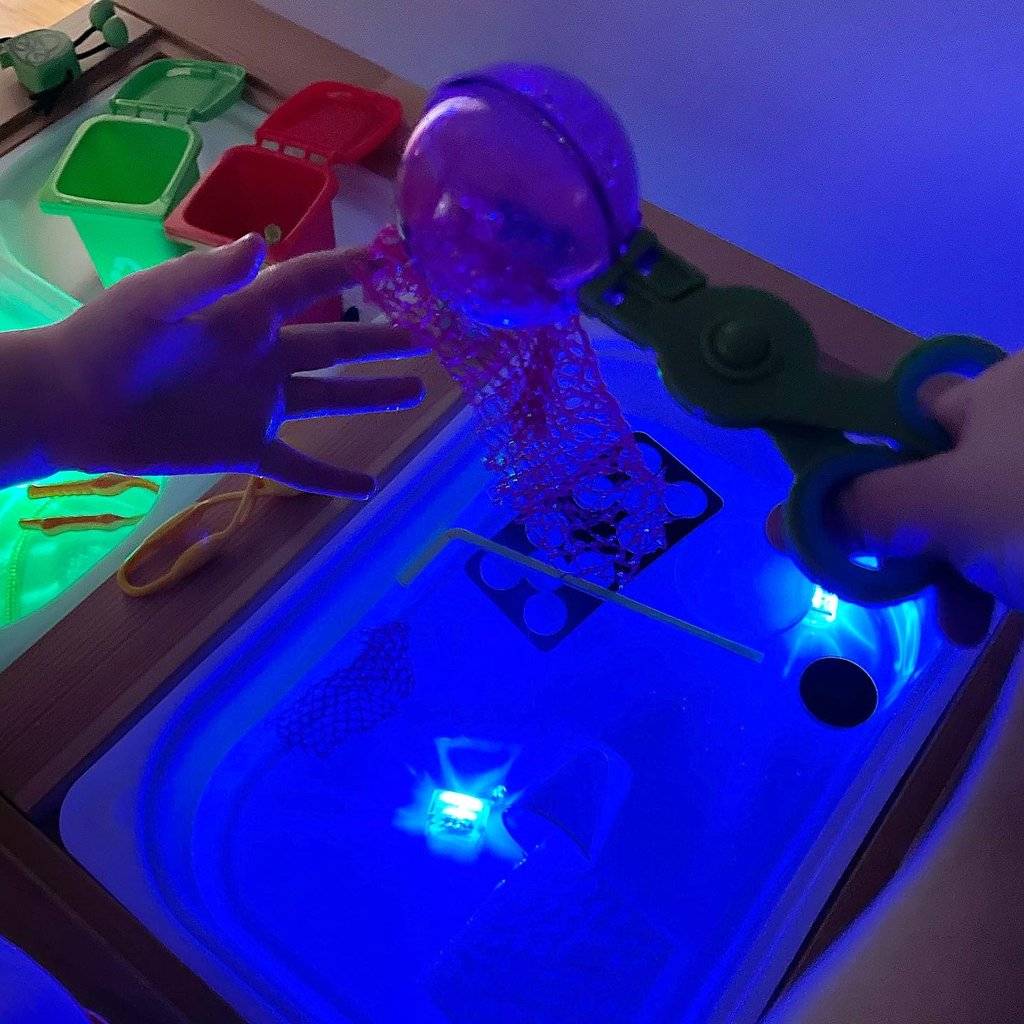 The Handy Scoopers™ were great fun with the sea bin because our little friend said that they reminded her of a fishing net. She used them to scoop up the trash, let the water drain off and then placed the trash in the correct bin. This particular fine motor tool really works the whole hand and is so fun to also try and scoop up the Glo Pals with. As the water drains, the light turns off!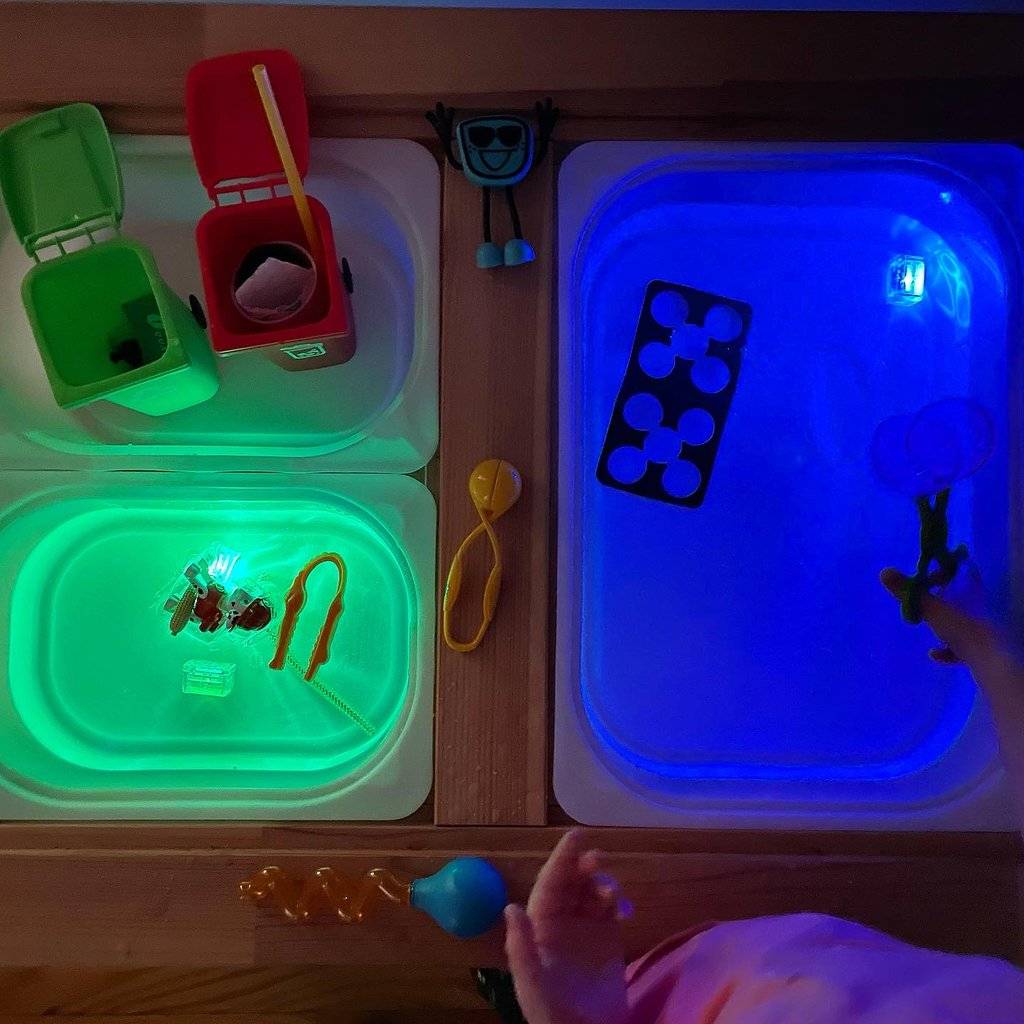 You'll notice from the pictures that we decided to turn our lights off to make the bins really glow. This can add a whole new and fun sensory element to the play! Our friend enjoyed the fact that Pippa made the water green in the land bin and Blair made the water blue in the sea bin.
One of the key components about hands-on learning is to always engage with your child. We had some great discussions about what different materials feel like, how we know if something can be recycled, and most importantly, ways we can try and reduce the amount of trash we produce. Raising awareness is a great place to start and children are never too young to consider the importance of protecting our Earth!